ATLANTA DANCE WEEKLY
8 October 2019 Fire Prevention Week Edition!!
***************************************
PLEASE send any future items to: atlantadanceweekly@gmail.com THANKS
***********************************************************************************
We hope you have had a great week. We were at Mishnock & Friends in the Catskills along with about 500 other line dancers. What fun.
*******************************************************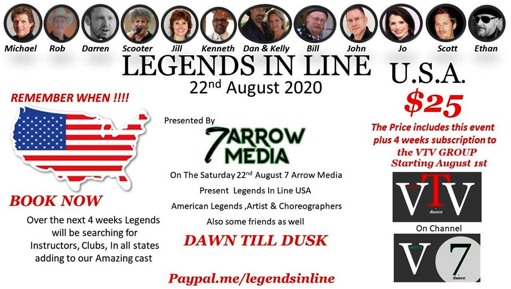 ********************************************************
THIS WEEKEND!!
McDonough GA
This Saturday is the monthly Moose Lodge line dance event in McDonough. This monthly event is NORMALLY held on the second Saturday of each month from 7 PM to 10 PM…..
Cost is now $7!! (Exact change is appreciated).
NOTE: The Moose Lodge has a polished concrete floor, so wear shoes accordingly as it does not slide like a wood one does but sure is better than vinyl tile. Dancers "Foot Tubes" are available for purchase from Tommy and Lynn Bailey at the MOOSE.
Lynn Bailey runs a list at the front, so it is your opportunity to request old and favorite ones, (bring the music if you have it just in case).
The dance area is SMOKE FREE. There is a bar and you can purchase drinks at the Moose.
The Henry County Moose Lodge is located just off Georgia 155, west of I-75. For those wanting to look it up on Map Quest or Google Map or put it in your GPS, the technical address is:
91 Hunter Chase
McDonough, Georgia 30253
Take either I-675 or I-75 south of I-285 to the 5th exit below where 675 and 75 merge. The Exit on I-75 is 216 which is Georgia Route 155. This is the southern of the McDonough exits. At the bottom of the ramp, turn right toward Griffin, (Ga-155 south). There will be a Quality (formerly Holiday) Inn on your right as you come off I-75.
Follow Ga-155 for about a mile and turn RIGHT into the entrance to the "Hunters' Run" subdivision on your right. You MUST turn into the subdivision entrance street to get to the driveway for the Moose Lodge. The Lodge drive does not connect directly to Ga-155.
Once inside, follow the hall around to the right to the rear of the building for their ballroom. Come on down and give it a shot...
If you are coming from the Loganville - Lawrenceville or Grayson area, get on Georgia 20 going south and follow this through Conyers, Magnet, and into McDonough. Once in McDonough where Ga-20 goes right, (toward the square) you keep going straight so watch the signs and stay on Ga-155 south. This will circle around and once you go under I-75, you will see the Quality Inn on your right and the directions above will apply.
For additional information or details on line dance classes in Henry County, e-mail
Tommy Bailey, mbailey571@yahoo.com
---------------------------------------------
There are the week normal planned dances at the various American Legions etc.
**********************************************
SANDY SPRINGS:
ATLANTA CAJUN ZYDECO ASSOCIATION
Curley Taylor and Zydeco Trouble have been playing, touring and recording since 2003. Curley is one of the most prolific composers in Zydeco. ​His bluesy, soulful vocals and the band's hard driving Zydeco beat blend to create high energy dance music for all audiences. The music is true to its roots in Zydeco and Blues, but contemporary enough to appeal to a broad range of music lovers.
Sunday, October 20, 7:30 pm until …. at the Vista Room 2836 LaVista Road, Decatur, GA 30033
Free Zydeco Dance Lesson with admission: 6:30 pm
There is an area set aside for dancing.
Napoleon Grill's menu and full bar.
General admission: $15 advance / $19 at door. Reserved tables are available for 4, 6, or 8 people at $20 per person. Reserve your table in advance to be sure of having a seat! Note that the person reserving a table must put the entire cost of the table on his/her credit card.
ACZA members will receive a 25% discount to this dance: $16 per person at a table. Join ACZA now to take advantage of these reduced rates — click here.
Please note: reserved ticket prices do not include additional booking fees. To reserve tickets for Curley Taylor at the Vista Room, click here.
Listen to Cajun, Zydeco, and New Orleans music on the radio every week:
Sundays 1-3 pm - WRFG 89.3 FM - "Zydeco Jo's Louisiana Gumbeaux"
Atlanta Cajun Zydeco Association, Inc. (ACZA) is a 501(c)(3) volunteer-run non-profit Georgia corporation dedicated to preserving and promoting the music and culture of Southwest Louisiana. For more information, visit our website at www.aczadance.org and connect with us on Facebook: www.facebook.com/aczadance .
UPCOMING ACZA EVENTS
Sunday, October 20: Curley Taylor & Zydeco Trouble at the Vista Room
Friday, November 22: Chubby Carrier & the Bayou Swamp Band at the Vista Room
Sunday, December 8: The Revelers at the Dorothy Benson Center
Atlanta Cajun Zydeco Association, PO Box 14376, Atlanta, GA 30324. Tel: 877-338-2420.
Marla Puziss (for the Atlanta Cajun Zydeco Association)
404-313-0493
*************************************************************
ALPHARETTA GA:
NEW CLASSES!! Alpharetta
Weekly classes starting Thursday, September 19, 2019
10:00 – 11:00
Adaptive Line Dance
This line dance class is geared to people living with Parkinson's or other neuromuscular/neurodegenerative disorders as well as those with physical limitations or balance challenges All dances taught will be appropriate for this audience. We'll dance some of my original choreography as well as dances from a variety of choreographers. Get out and have some fun.
https://www.copperknob.co.uk/stepsheets/johnny-be-good-ID129881.aspx
https://www.copperknob.co.uk/stepsheets/worlds-delights-ID129882.aspx
11:15-12:15
Line Dance
This class is for the general population and is a mixed beginner's levels dance. We'll cover a variety of dance styles including Latin, country, R&B, Top 40 and Oldies.
WHERE
Alpharetta Adult Activity Center
13450 Cogburn Rd, Alpharetta (in North Park)
WHEN:
Thursdays (starting September 19, 2019)
10:00-11:00 Adaptive Line Dance
11:15-12:15 Beginners Line Dance
COST:
Free
INSTRUCTOR:
Wendy Haggerty
Whaggerty2016@gmail.com
SPECIAL NOTES:
YOU MUST BE OVER THE AGE OF 50 TO ATTEND THESE CLASSES.
All classes are free and you do not need to be a resident of Alpharetta to attend.
There is no need to sign up or pre-register ahead of time, just show up for some dancing fun.
Strengthen Your Body! Focus Your Mind! Energize Your Spirit!
Wendy Haggerty, C-IAYT
Certified Yoga Therapist and yoga instructor
Line Dance instructor and choreographer
On-line educator with Professional Organization for Wellness Certification
Parkinson's Foundation Advisory Council member
Creator Line Dance for Parkinson's, LD4PD
Owner Zest Yoga and Fitness
508-843-9887
www.ZestYogaAndFitness.com
**********************************************************
ATLANTA (BUCKHEAD AREA)
ATLANTA SWING DANCERS CLUB (ASDC)

Join us for the best West Coast Swing Dancing in town with Atlanta's original West Coast Swing Dancing club!!
West Coast Swing is one of the most exciting, popular and versatile couples dance styles in the world. It is danced by men and women of all ages and to a wide range of music genres.
The Atlanta Swing Dancers Club (ASDC) has weekly WCS lessons for all skill levels followed by dancing on Sunday nights.
However, this Sunday we will not be dancing at our usual Buckhead location.
Our club is sponsoring the 2019 Atlanta Swing Classic at the Crowne Plaza Hotel and it is really the place to be this weekend.
Dancing, workshops, competitions and a lot of fun and exciting events will be happening there, Thursday Oct. 10 through Sunday Oct.13.

Come enjoy it with us! All the details at www.atlantaswingclassic.com and on Facebook.
On Wednesday Oct. 9th, there is also a pre-ASC party at the Brimstone Restaurant & Tavern in Alpharetta.
For additional details about our club and our activities, see us on Facebook and our website. Atlantaswingdancers.com
************************************************************
PEACHTREE CITY GA:
FREE DANCE LESSONS
EAST COAST SWING
Beginning Tuesday, October 1, through Tuesday October 29, The Bridge Community Center in Peachtree City, located at 225 Willowbend Rd., phone # 770-487-9289, will be offering a FREE beginner class in the Swing from 7:00 pm until 8:00 pm. The Swing is a dance that has stood the test of time and is a fun dance, with very nice movement and steps that a person will enjoy. All the classic moves will be taught at a beginner level and approaching an intermediate level. Also, there will be Lindy steps intermingled with the Swing, which will kick up this dance to another level, all while having a good time. Even though the class is FREE ,you will get the same quality as if you were paying top dollar anywhere else. This dance can be used at different dance venues. Classes are taught by James Stone and Charlyn Harms.
***********************************************************************
VILLA RICA
Monthly Line Dance Social – Coming to GA! 😊
Where: Villa Rica at the VPLEX - 1605 Hwy 61 Villa Rica, GA 30180
When: Every 2nd Wednesday - 10:30 am till 2:30pm.
Cost: $10 per person
Contact Info: Debra at debb@cleckler.com or 404-398-2150 or 770-456-6244.
THIS LINE DANCE SOCIAL IS FOR YOU! It's designed to help us remember all those dances we have learned over the years. It's a chance to come and practice. We will dance, dance, dance all day to your favorite newbies, oldies and/or whatever the demand is.
DANCE REQUESTS: Attendees of each dance social may submit dance requests to Debra by the first Wednesday of each month. Dances receiving the most requests will take priority, but an effort to play all requests will be made.
TURBO TEACHES: If needed, a quick "refresher" run through of one wall of each dance will be given right before the music starts. Instructors attending the social are asked to help with the turbo teaches.
LUNCH: Bring your own lunch or bring a snack to share for a "potluck" lunch with friends around noon. Plenty of fast food and full restaurants close by.
2019 Schedule: 😊😊😊
October 9, 2019
November 13, 2019
December 11, 2019
Here are the dances for these events:
1159
Ain't Misbehaving
Beautiful Crazy
Bonaparte's Retreat
Cake by the Ocean
Celtic Duo
Champagne Promise
Cherry Bomb
Chill Factor
Código
Crash & Burn
Dancing' in the Dark
Every Little Honky Tonk Bar
Fireball
Good as You
Goodbye to Fear
Havana Cha
I'm Worth It Too
Just A Phase
Knockin' Boots
Lay low
Lonely Drum
Moonlight Madness
Mr. Lonely - R Royston /Lonely Blues - Rachel
Music to My Eyes
Pull You Through
Senorita La La La
Shady
Soul Shake
Spilled Whiskey
Strip it Down
Sucker
Summer Sway
The git Up
VHS (Rob Holly & Lynne Maratino)
Wave on Wave
--------------------------------------------------------------
DANCING IN VILLA RICA, GA – Debra Cleckler – debb@cleckler.com
Exercise your body, mind and soul with us at the VPLEX (1605 Hwy 61 Villa Rica)
LINE DANCE Mondays - Classic & Contemporary – (electronic step sheets/videos provided)
Beginner Dancers - $20 per month.
Absolute Beginner: 6-6:30pm. Including Beginner Line Dancer orientation.
Improver 6:30-7pm.
Experienced Dancers - $25 per month 7-8:30pm, or… do both classes for $25 per month.
Fun music and dances! All taught by accredited dance teachers.
Classics for September include: "Country as Can Be", "Ah Si" and "The Tush Push".
Newer dances include: "Good As You" by Michael Barr and Michele Burton, Dance on My Island" by Gary O'Reilly & Shane McKeever, "VHS" by Rob Holly, "I Miss Me More" by Ed Vangelista, "Every Little Honky Tonk" by Steve Lustgraaf, "Senorita Bachata" (for the beginners) by Duma Kristina S & Mitha Primasari, "Soul Shake" by Fred Whitehouse, Knockin Boots" by Hana Ries.
Couples Tuesdays - Beginner 7-8pm, Experienced 8-9pm. $20 per person for four-week session.
West Coast Swing started September 3. Acted. teacher Debra Cleckler. ECS starts October 8!
No partner needed; we share ours! PRIVATE HOURS AVAILABLE – 404-398-2150.
NTA - The dancers' personal trainer and coach, helping good dancers become better dancers. Next NTA workshop in GA is October 5-6, 2019. www.ntadance.com We provide basic dance education and accreditation (if needed for teaching). We also offer discounted music license.
****Coming to GA – Line Dance Social Dance (just dancing) on the second Wednesday of every month. 10:30am till 2:30 pm at the VPLEX -1605 Hwy 61. Submit your favorite dance requests to Debra at debb@cleckler.com by October 2 for first social on Wednesday, October 9.
*************************************************************
SNELLVILLE
Eastside Station, 2166 Highpoint Rd, Snellville, GA 30078
We are back to our normal Wednesday night dance. So join us this Wed (Oct 9) for a fun night of dancing. We will be walking through the two dances from last week, Sweet Something and Never be Sorry. See you on the dance floor!
********************************************************
WARNER ROBINS: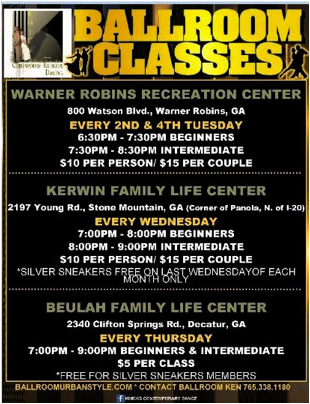 **********************************************************************************
FAYETTEVILLE – TYRONE - GRIFFIN GA –DOUGLASVILLE,
There are weekly classes in these areas, but the instructors have not submitted any information regarding planned activities.
*********************************************
If you no longer want to receive the DANCE WEEKLY e-mail please do NOT mark as SPAM. Just send us a note to take you off… PLEASE provide the e-mail address you get it at and your name.
****************************************************
UPCOMING Events:
Atlanta Country Nights starts THIS Sat night, Oct 12th at Ballroom Impact Atlanta in Sandy Springs. They have a great dance floor. We'll have room for 200+. The night will be BYOB,, so bring your own drink but be responsible. Located at 8601 Dunwoody Place, Suite 730 . Doors open at 7:15 and the dance will prob run from 7:30 to 11:30. Nov 16th will be the November dance.
The dance will be more in the style of Electric Cowboy. DJ only playing hits from the 90s to now, with plenty of songs to two step, swing dance, waltz to line dance. Admission will be $10 in advance or $12 at the door ALSO, Table for 4 is only $35. DEADLINE for reserving a table is this Friday, the 11th at 3pm. For more information, go to https://www.georgia-country.com/atlantacountrynights.php
UPDATE: Atlanta Country Nights is EXPANDING. We will now have a WEDNESDAY NIGHT dance at MadLife Stage & Studio in Woodstock, starting Wed night, Jan 22nd. The dance will run from 7 to 10 on Wed nights. We will not plan on lessons at this time being only 3 hours of dancing.
NOTE: ACN will be looking to add MORE monthly night dances to support the Atlanta and Georgia country dance community. If you know of any venue in the Atlanta area, that either has a large enough dance floor OR an all wood floor that can be used for dancing, do contact us on Facebook. With no current country bar in Atlanta, we are hoping these nights will be great for the country dancers. We may look at a Roswell / Marietta venue in the coming weeks.
ATTENTION: Country Music Lovers - Voting has started in the Final Round of the 2019 Georgia Country Awards. To vote, go to the Awards page of Georgia-Country.com. Dancers, one category is dance venue of the year. Voting ends, Oct 15th. The Awards show will be on Friday night, November 8th at The Crazy Bull in Macon. Dancers, every year we always make sure there is plenty of room in front of the stage for dancing. Some of the best bands in Georgia will be performing. Tickets now on sale on Georgia-Country.com
ATTENTION: Dancers in Atlanta and West Georgia area, West Georgia Country Nights is proud to announce THE COUNTRY DANCE NIGHT of the YEAR with our New Year's Eve Party, Tuesday night, Dec 31st at Venue 1625 in Carrollton. There will be a gourmet buffet, champagne toast, balloon drop at midnight. Doors will open at 7pm, DJ dancing from 7 to 9 and then Brian Camp & The Georgia River Band on stage at 9 till after midnight. We'll be playing country hits from the 90's to Now,, plus some classics. Plenty of songs to line dance to two step to. Dress to your nines, we'll have a photo area to get your pics done. Make plans now. Tickets are $40 in advance for single, $45 at the door (if not sold out), tables for 8 or 10 for your friends are also available. Also, tables for 2 as well. Go to the link below for more info and advance tickets.
Also, Saturday night, November 2nd will be the Halloween Party. We had a great crowd last year. South of Nashville returns to the stage with another great night of 90's country to today's hits. Plenty of line dancing to two stepping songs. We'll have a costume contest with cash prize. Tickets are now on sale for single tickets to tables for 8 or 10. Go to http://www.georgia-country.com/westgeorgiacountrynights.php
JUST ADDED - Feb 15th - Valentines Dance at Sewell Mill Events Center in Bremen. This room is huge, all wood floor, dancing will be down the center of the room. BYOB - 7 to midnight with Brian Camp & The Georgia River Band. Tickets will go on sale soon.
This week shows from Georgia-country.com Artist., as of Oct 8th, 2019
Any show in RED has room to dance or a dance floor.
· Garrett Wheeler - Open Mic Shootout – Buzzy's Grill - Kennesaw - Oct 8th
· Hunter Grayson - Craft Public House - Athens - Oct 8th
· Brennan Burns - Amici's Cafe - Clemson, SC - Oct 11th (4pm)
· Casey Mitchell - Fish Dock Bar & Grill - Townsend - Oct 11th
· Blake Pettis – Giggity's - Rome - Oct 11th
· Hunter Flanagan - Brass Monkey - Slidell, LA - Oct 11th & 12th
· Hunter Grayson – Dillon's Sports Bar - Lawrenceville - Oct 11th
· Tiger Bragg Band - Shaw O'Brian's Roadhouse - Jackson - Oct 11th
· Brennan Burns - Study Hall Bar - Clemson, SC - Oct 11th (10:30pm)
· Hunter Grayson - Bills BBQ - Hull - Oct 12th
· Casey Mitchell – Outer banks Bar - Kingsland - Oct 12th
· Brennan Burns - Study Hall Bar - Clemson, SC - Oct 12th (10:30pm)
· Casey Mitchell – Seagle's Bar - St Mary's - Oct 13th (6pm)
For the latest country music news, locally and nationally, the latest in major concerts coming to Georgia, pictures, videos and more, always go to www.Georgia-Country.com
Thanks for your support
***********************************************
ALPHARETTA GA:
Club 201 Friday, Saturday & Sunday Dancing - Open to the Public - Non-Smoking – Free Parking - 2800 Sq. Ft Hardwood Dance Floor

American Legion Post 201
201 Wills Rd
Alpharetta GA 30004
(770) 475-9023
www.Club201Dance.com (sign up for our weekly email of events). You also can hit LIKE Club 201 on FaceBook at www.facebook.com/Club201Alpharetta to keep up with events at the legion.
Friday Mornings Line Dance Lessons! Dance for Love benefits Veterans
10:00 AM Beginners
11:00 -11:30 Beyond Beginners
11:30 - 12:00 Intermediate
Jean Maggio Instructor $5.00 per Hour
-----------------------
Wednesday, October 9th - "Walk the Line Wednesday" with line dance instructor Nancy Anthony.
7:00 to 7:30 PM - Free Ultra beginner lesson.
7:30 to 8:30 PM - Line dance classes.
8:30 to 10:00 PM - Open line dancing.

Friday, October 11th - Live concert with the "Glow" band. Movin' and Groovin' 60's show. Purchase tickets at the Glow Band website.
No dance lesson.

Saturday, October 12th - Live music with the band "Southpaw" playing great dance music from 8:30 PM to Midnight.
Beginning and intermediate "Country Two Step" lessons with Mark and Elizabeth Williams from 7:30 to 8:30 PM.

Sunday, October 13th - This Sunday only West Coast Swing Sunday will be joining the "Atlanta Swing Classic" at the "Crowne Plaza Ravinia". Lesson with Michael Kielbasa will start at 7:00 PM.
Cost is $10.00.
--------------------
Schedule for Dances:
Friday Dance Begins 8:30
Saturday Dance Begins 8:00
Sunday Dance begins at 7:30
Schedule for Dance Lessons:
7:30 pm Friday
7:00 pm Saturday
6:00 Sunday
You Do Not Need a Partner Mark & Elizabeth Williams, Dance Instructors
Admission Prices:
$15 for Band Nights
$12.00 for DJ Nights
$10 for Wednesday Nights (Same)
Social Dancing Only Sunday: ASDC Members $5 -
You Do Not Have to Be a Member to Dance!
Sign up for weekly email on upcoming events at our website
www.Club201Dance.com
Non-Smoking venue! Free Parking!
2,800 Sq. Ft. Hardwood Floor
Reasonable Drink Prices!
You May Reserve Tables for Parties!
Bring Your Own Snacks (No Beverages Please)
Directions:
From 400 Northbound – Exit 10 Old Milton Parkway – Turn Left – Approx. 2.2 Miles
From 400 Southbound – Exit 10 Old Milton Parkway – Turn Right – Approx. 2.2 Miles
Turn Right on Wills Road – First Drive Way on Left into the American Legion
For more information about Club 201, go to www.Club201Dance.com
********************************************************
DECATUR GA:
CWSC dance lessons are now being held in the Fellowship Hall at the Clairmont Presbyterian Church located at 1944 Clairmont Road, Decatur. Lessons are held from 7:30 to 9:30. Doors open at 7:15. Click Here for map to the church
CLASS SCHEDULE:
October 2019
11th Friday Night Dance at the Yaarab Shrine
14th West Coast Swing Intermediate/Advanced
21st Two Step Basics & Fundamentals * Bring A Friend
28th Two Step Basics & More
All Monday Night Lessons are held at the Clairmont Presbyterian Church. Click here for map Doors open around 7:15 and the lesson is scheduled to begin at 7:30. The lessons usually ends around 9:30 and several songs are played after the lesson so you can practice.

* BRING A FRIEND NIGHT
On the first night of each new lesson series, friends get in free to Monday night class if accompanied by a club member. Click here for more information
The CWSC is on FACEBOOK! Check it out: http://www.facebook.com/CountryWesternSocialClub If you have pictures from a CWSC social event for our FaceBook page, please send them to dinalee62@comcast.net or one of the other Board members.
Visit our website: www.cwsc.org
Your Dancing' Board,
Brenda
bshug50@yahoo.com
***************************************************************
ATHENS & NORTHEAST GEORGIA
Lanier Dance Club
Tuesday October 8th
7:00 PM
Night Club Lesson 3
Ron assisted by Joy
Open Dancing 8 - 10 PM
Cost is $8 for both / Cash bar available
Meets at the American Legion
Riverside Dr., Gainesville
* * * * * * * * * * * * * * * * * * * * * * * * * * * * * * * * * * *
Athens Moose Lodge
185 Ben Burton Rd, Bogart, GA 30622
NO Monday Night Line Dance Class
I'm starting a NEW WEST COAST SWING class!
Oct 21st / Nov 4th / Nov 18th
Cost is $30 for the 3 lesson series payable at the first class.
If you can't make all 3 classes then $12 drop in rate.
UGA Students with ID only $15 for the series or $6 per class.
Class 7 - 8 PM / Practice music till 8:30
Open to Non-Members
You MUST EMAIL ME to reserve you spot in this class!
IF we get enough interest I'll continue this class on 1st & 3rd Mondays
* * * * * * * * * * * * * * * * * * * * * * * * * * * * * * * *
Boutier Winery
4506 Hudson River Church Rd.
Danielsville
Thursday Group Class
October 10th & 24th
6:30 Line Dance Class
7:30 Couples Class / American Tango
Cost is $10 for each class or a COMBO price of $15 for both Line Dance and Couples Class.
Class ticket includes a glass of wine or other drink. Victor is serving up some really good wines for tasting.
Ron Putman
ronputman.com
***********************************************************
DUNWOODY GA:
The 2019 Atlanta Swing Classic upon us this weekend- October 10 through 13. We have some important information for you regarding the event. Please read the below to see all the amazing options that are available to you.
Registration and Hotel information:
Weekend pass prices went up on October 1.
Our updated schedule can be found here. We have added instructor names as well as updated contest times. Fear of missing out is real!
The hotel room block is closed 10/2!
If you have reserved a room that you no longer need, please post to the Facebook event page to see if someone else may need it.
Limited spots are available in some of our contests and programs, including the All-American J&J, Criss Cross J&J, and the Accelerated Learning Program, so register early! (The novice and intermediate followers, as well as intermediate leaders, for the Criss Cross J&J Divisions are sold out!)
Please register for contests and add-ons in advance. It speeds up the check-in process at the event and saves you money!
Specialty Items of Interest:
Accelerated Learning Program - Friday and Saturday at various times. This unique learning experience will give you direct instruction and feedback from some of our staff.
Friday: 11:00 am - Music Theory for Dancers: Layered Musicality (included with a weekend pass)
Friday: 12:15 pm - Community Builders Workshop (included with a weekend pass)
Friday: 1:30 pm - Robert & Brandi Intensive: This all levels intensive features two of the best in the world. Don't miss this unique learning opportunity. ($150 per person add-on for 4.5 hours of instruction)
Friday: 2:45 PM - Practice Groups: How to and more (included with a weekend pass)
Friday: 4:00 pm - Gary & Susan Routine Experience: This intensive is geared towards Advanced and All Star dancers. Intermediate and Novice dancers are welcome with Gary & Susan's permission. Intermediate and Novice welcome without permission if you register with an Advanced or All Star dancer. A partner is required. ($50 per person add-on for 4.5 hours instruction)
Friday: 9:00 pm - Masters Meet & Greet - Hosted by the Atlanta Swing Dancers Club. Grab a drink from the bar and enjoy some light snacks in the fun, relaxed social atmosphere. Must be 50+ years of age to attend.
Saturday 2:30 am (Friday late night) - USDC
Saturday: 3:00 pm - Intermediate/Advanced Zouk Workshop hosted by Zouk Atlanta. ($80 per person add-on)
Saturday: 6:30 pm - WCS 101 - Free West Coast Swing Introductory Class. This class is designed for brand new dancers. Please invite your friends.
Saturday: 11:30 pm - Breakfast Buffet ($20 per person add-on, included with breakfast buffet weekend pass)
Sunday 2:30 am (Saturday late night) - USDC
Sunday: 10:00 am - Michael and Carrie Masters' Intensive: This intensive is for dancers with 50+ years of age. The intensive is designed to focus on your strengths, allowing them to shine, and giving you tools to help your dance both socially and on the contest floor! Don't miss this exciting intensive. ($50 per person add-on)
Sunday: 11:15 am - How to be a leader in the community while being a follower on the floor hosted by Brandi Guild. Women only. (included in weekend pass)
Your input matters, and we will be seeking your input by posting occasional polls on our Facebook event page. Not there? Click here to RSVP to the Facebook event, provide your input, and help shape the 2019 Atlanta Swing Classic!
Meet the 2019 Atlanta Swing Classic MCs and DJs!
Presenting… our incredible team of MCs! 🎤
Great MCs are the heart of any event. Give it up for Brandi Guild, Robert Royston, Victor Loveira, and Ben Morris! 👏
🎶 ASC 2019 DJs 🎧 Here's a shout out to our amazing team of DJs! They will make you want to dance your 🍑 off all night long!
Give it up for Head DJ Ruby Lair, Victor Loveira, Anthony DeRosa, and Koichi Tsunoda!
2019 Masters Dancer Exclusives!
The Atlanta Swing Classic is proud to offer unique opportunities for all dancers! There are a multitude of opportunities available to Masters dancers. They include:
A wide variety of Masters level Strictly and Jack & Jill contests, including a Masters Novice J&J (third year we have offered this)
Masters Intensive with Michael Kiehm & Carrie Smith
A special meet and greet just for you!
We are also proud to feature early starts to social dancing all four nights! Join the fun now!
Contest Updates!
The Atlanta Swing Classic is thrilled to offer a wide variety of unique social skill contests. Register early as we do limit the number of entries to certain contests! Our contests include:
Jack & Jill
Newcomer, Novice, Intermediate, Advanced, All Star
Masters Novice, Masters Open
Jack & Jill: All American (limited entries)
**NEW** Criss Cross Jack & Jill: Novice/Advanced and Intermediate/All Star-Pro (limited entries)
Two divisions compete separately
Nov/Adv means Novice leads are partnered with Advanced follows and Novice follows are partnered with Advanced leads
Int/AS+ means Intermediate leads are partnered with AS+ follows and Intermediate follows are partnered with AS+ leads
You are randomly assigned a partner and then you dance with the same partner throughout the contest
Pro-Am Jack & Jill: Novice, Intermediate, Masters
Strictly Swing: Masters, Novice, Intermediate, Advanced, All Star
Advanced and All Star are separate divisions
**New** Strictly Swing: Generational
20+ years difference
All Star and Pro may not dance with each other
Join the contests now!
2019 Instruction Team
We have assembled a diverse team of instructors and there will be "Classic instruction all weekend long!
There will be a variety of classes with some focusing on technique and core concepts, while other classes will focus on movements, variations and patterns.
Stay classy folks and get to class.
Event Registration
The Atlanta Swing Classic is ready for you! Register now! Free weekend passes for those who qualify as WSDC All Star 🌟
We have exciting activities planned for all dancers:
💃🏻 Countless hours of incredible social dancing
🤩 Various training opportunities with top instructors
👯‍♀️ Fun social contests!
🍳 Amazing midnight breakfast buffet on Saturday (Optional $20 add on, 10/10 would recommend 🤤)
We do have special pricing for juniors, students, and international residents. Please visit our registration page for all the information!
Hotel - Crowne Plaza Ravinia at Atlanta Perimeter
The 2019 Atlanta Swing Classic will be back at the fully renovated Crowne Plaza. The rooms have been updated and refreshed, the ballrooms completely modernized, and the restaurants remodeled.
Atlanta Swing Dancers Club | P.O. Box 924251, Norcross, GA 30010
*******************************************************************
CAMDEN SC
Come join us in Camden, SC for a weekend of dance, food and fellowship.
FR IDAY—SUNDAY NOVEMBER 1-3. 2019
KERSHAW COUNTY RECREATION CENTER
1042 W. DEKALB ST
CAMDEN SC
All proceeds from Bette's Weekend will be donated to the local chapter of ALS Assoc. to
help fight this terrible disease. Please visit www.alsa.com for information
· Friday night dance 7:00-10:00
· Saturday all day workshop (lunch) 9:00-4:00
· Doors open at 8:00 on Sat for late registration & dance
· Saturday night dance 7:00-10:00
· Sunday morning worship 10:00-12:00
· $70.00 for complete weekend pass
· $10.00 for Friday night dance only
· $50.00 for Sat workshop only (includes lunch)
· $10.00 for Saturday night dance only
· $5.00 for Sunday morning worship
BETTE'S LINE DANCE WEEKEND EVENT
********************************************************
ACWORTH GA: 11 April 2020
Attached is the information for the 2020 Give Cancer the Boot line dance event which will be held April 11, 2020. I know this seems really early, but the calendar is already filling up and this event sold out very quickly in 2019. Be sure to get this on your calendar!!!
Carol Walls
****************************************************
***********************************************
SUBJECT: STACY HAS UPDATED THE "DANCE WHERE" LINK ON THE SITE:
PLEASE checks the classes and clubs that are listed in the area where you live and let Stacy know by filling out the little form whether there should be changes, deletions, or corrections. Please really use this link when they travel or move and she can only keep it correct and current with everyone's help. Just click on the link, go to your city/state/country and see if the listings are correct or if you are in a class that isn't listed. Perhaps your instructor doesn't get the newsletter (and you need to tell them to get it by sending me an email to tkandr@aol.comand I'll add them. LOL) or times and days have changed. It will only take a second to check and Stacy and I would REALLY appreciate it. Be sure and do it through the form, though, because that goes directly to her. Thanks a bunch.
Where To Dance pages has been updated!
http://worldlinedancenewsletter.com/
Click on DANCE WHERE and choose your Country. ALL forms are on the right hand side.

Stacy J Garcia
stacyjgwldn@gmail.com
World Line Dance Newsletter
www.worldlinedancenewsletter.com
https://www.facebook.com/stacy.j.garcia
UPCOMING EVENTS:
HERE IS A LIST OF UPCOMING EVENTS. STACY UPDATES IT EVERY SUNDAY. There is a little form to use on the RH side of the page so please be sure your info is included for weekend events, day seminars, and socials ANYWHERE IN THE WORLD. People use this list to plan their year ahead and you can even add your events for 2087.
2018 EVENTS
LD = Line Dance, PP = Pattern Partner, SW = Swing, CW = Country Western HOPE TO SEE YOU SOMEWHERE IN THE DANCEFLOOR!
Date Event Name Location Contact Dance Types
10/10-10/13 Windy City Linedancemania Chicago, IL N/A LD
10/12 Let's Dance Day Orlando, FL Email LD
10/18-10/20 Southern National Dance Panama City Beach, FL Email 850-445-9362 UCWDC (LD,SW, CW)
10/18-10/20 Southside Virginia Dance-A-Thon With Dancin' Dean Danville, VA Email 434-799-5216 LD
10/19 Dancing My Way To Wellness Line Dance-Thon Hamden, CT Email 203-464-2674 Soul
10/19 Munegu Dance Event - Scott Blevins & Gary O'Reilly Monaco, Principaute De Monaco, Email (377) 0678639680 LD
10/20-10/31 Line Dance Holiday Antalya, Turkey Email LD
10/24-10/27 Motor City Dance Classic Sterling Heights, MI Email 586-419-9178 LD
10/26 Southside Virginia All-Beginner Line Dance Workshop Danville, VA Email 434-799-5216 LD
11/01-11/03 Halloween Party With Maddison Glover Sundsvall, Sweden Email (70) 5980156 LD
11/02 Let's Dance Day Orlando, FL Email LD
11/07-11/10 5th Annual - Dance In The Sand Myrtle Beach Myrtle Beach, NC 919-247-0680 LD
11/07-11/10 New York State Of Line Ellenville, NY Email 732-267-2891 LD
11/08-11/09 Hawaii Line Dance Festival Lihue, HI Email 808-635-3333 LD
11/15-11/17 Line Dance Weekend With Jo Thompson Szymanski Bergen, Norway Email LD
11/15-11/17 Piepstem Resort Line Dance Weekend Pipestem, WV Email 502-643-2786 LD
12/05-12/08 Florida Line Dance Classic Orlando, FL Email 954-444-6980 USLDCC (LD)
12/06-12/08 Madness In Taiwan Taipei, Taiwan Email 714-334-0888 LD
12/14 Let's Dance Day Orlando, FL Email LD
LD = Line Dance, PP = Pattern Partner, SW = Swing, CW = Country Western (TBD) = To Be Determined
EVENT CALENDAR UPDATED
Forms for Event Calendar: http://www.worldlinedancenewsletter.com/form-event-calendar.html
Stacy works on the event calendar on Sundays and sends the Event Calendar link to Carol to post in newsletter on Mondays.
*****************************************
For bulk FOOT TUBE orders go to www.dancersfoottubes.com Many of the instructors sell individual pairs
**************************************************************************
**************************************************************************
LONG TERM ADVANCE PLANNING:
October 12: Monthly Line Dance – Moose Lodge – McDonough GA – Details above.
October 19: Saturday Night Line Up" in Lilburn. Lilburn Activities Building – Lilburn GA
October 26: Nothing reported to us so far.
November 2: Nothing reported to us so far.
November 9: Nothing reported to us so far.
November 16: Nothing reported to us so far.
November 23: Nothing reported to us so far.
November 30: Nothing reported to us so far.
********************************************************
Thinking of Stem-Cell for those aching knees……Something to consider….
https://www.acsh.org/news/2019/02/08/stem-cell-treatments-arthritic-knees-are-unproven-expensive-and-potentially-dangerous-13798?fbclid=IwAR3t5oo9YoA_TsGsMpjEB2weyjA4uYOuNgXAF2O0bD7R82T6PVIpFP3qAKI
***************************************************************
Two Very Important Updates (and some self-serving smaller ones)
Apple Updates
Apple has released iOS 13 for your iPhone and will be releasing it for the iPad shortly. DO NOT UPDATE TO iOS 13. Apple loves to have it's customer base be final beta testers. They are notorious for having a very buggy first release. Please wait for iOS 13.1 to arrive Tuesday, September 24th. Upgrade your devices at that point.
AT&T & Bellsouth Email Updates
Yahoo (using an email address ending in Yahoo.net) has sent out a mass email that if you don't make changes immediately, your emails will no longer work in some applications. This looks like a request to add O-AUTH passwords to programs like Outlook, Windows Live Mail, and old versions of Mac Mail. It doesn't impact using a web browser or Windows Mail (Windows 10's built in program) and recently updated Apple or Android devices. My recommendation here is to not do anything and if it breaks, call me, because I assume that we've already done what we've needed to do here.
Used Laptops for Sale
I have two refurbished Dell Latitude E6440 laptops for sale. They are business-grade 14.1" dockable laptops. They have Intel i5 processors, 8 GB RAM, and a 250GB SSD, running Windows 10 Professional. If you're not wanting to take your existing computer to Windows 10 and would rather take them to the Rainbow Bridge instead, let me know. These are $400 each and negotiable if I get antsy and can't sell them. Costco has a new HP discounted to $479+tax with similar specifications. So using new math, save $142 with current pricing.
House-calls
I still make house-calls. Keep me on speed dial.
Thanks, as always!
​Adam Freedman
Dunwoody Personal Computers, LLC
phone: 404-702-3726
website: www.dunwoodypc.com
facebook: facebook.com/dunpc
Click Here to Leave Me A Review!
Copyright © 2019 Dunwoody Personal Computers, LLC, All rights reserved.
Our mailing address is:
Dunwoody Personal Computers, LLC
2090 Dunwoody Club Drive NE Suite 106
Atlanta, GA 30350
*******************************************************************
In accordance with Federal Regulations and Law, if you find that this newsletter is no longer of interest to you and you wish to have your name removed from our listing, we will gladly do as you desire. Simply reply to this email with the following subject line; "REMOVE from Dance list". If you will list both your name (as given for this e-mail) and the actual e-mail address….
If you'd prefer that we use a different email address, respond with "Dance list E-MAIL CHANGE" in the subject and your preferred email address in the body of your response.
If you have suggestions or comments, respond with "Dance SUGGESTIONS & COMMENTS" in the subject and we'll direct your comments to the appropriate people.
If you are not included on our distribution and wish to be, merely send us an email with "SUBSCRIBE to Dance list" in the subject.
****************************************************
Have a great Dance Week.
Dave Williams
770-399-9316
atlantadanceweekly@gmail.com