ATLANTA DANCE WEEKLY
10 September 2019 Edition!!
***************************************
PLEASE send any future items to: atlantadanceweekly@gmail.com THANKS
***********************************************************************************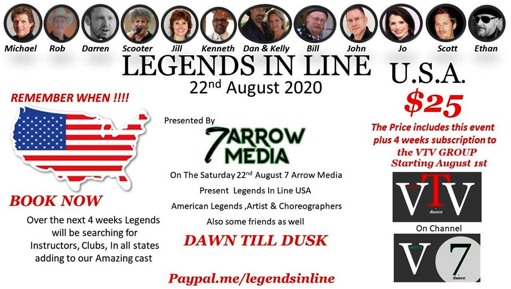 *******************************************************
We understand there was a large line dance event in Rome GA today. Sadly, we have received no information on this event so many who might have liked to attend did not know about it. Maybe next year…. ☹
********************************************************
LINES IN THE SMOKIES FOLKS!!!!!
The Ramada Inn in Pigeon Forge has been sold and there has been some issues with the reservations previously made. They have lost the Ramada Inn franchise and this is now the Evergreen Smokey Mountain Resort
Do yourself a favor and call just to be sure that the Evergreen Smoky Mountain Resort does have your reservation. Reportedly they have loaded all in their reservation system but it is well worth the cost of a phone call. Dian: 865-453-1823. Rates vary depending on room type/size, Lodging includes complimentary continental breakfast
This is the same facility which previously was the Ramada Inn 4010 Parkway Pigeon Forge, TN
Rooms are limited. Make your reservations NOW!!
Must mention the Lines in the Smokies Dance Workshop for special rate
PARKING IS LIMITED TO 2 PARKING PASSES PER ROOM!
*********************************************************
THIS WEEKEND!!
McDonough GA
This Saturday is the monthly Moose Lodge line dance event in McDonough. This monthly event is NORMALLY held on the second Saturday of each month from 7 PM to 10 PM…..
Cost is now $7!! (Exact change is appreciated).
NOTE: The Moose Lodge has a polished concrete floor, so wear shoes accordingly as it does not slide like a wood one does but sure is better than vinyl tile. Dancers "Foot Tubes" are available for purchase from Tommy and Lynn Bailey at the MOOSE.
Lynn Bailey runs a list at the front, so it is your opportunity to request old and favorite ones, (bring the music if you have it just in case).
The dance area is SMOKE FREE. There is a bar and you can purchase drinks at the Moose.
The Henry County Moose Lodge is located just off Georgia 155, west of I-75. For those wanting to look it up on Map Quest or Google Map or put it in your GPS, the technical address is:
91 Hunter Chase
McDonough, Georgia 30253
Take either I-675 or I-75 south of I-285 to the 5th exit below where 675 and 75 merge. The Exit on I-75 is 216 which is Georgia Route 155. This is the southern of the McDonough exits. At the bottom of the ramp, turn right toward Griffin, (Ga-155 south). There will be a Quality (formerly Holiday) Inn on your right as you come off I-75.
Follow Ga-155 for about a mile and turn RIGHT into the entrance to the "Hunters' Run" subdivision on your right. You MUST turn into the subdivision entrance street to get to the driveway for the Moose Lodge. The Lodge drive does not connect directly to Ga-155.
Once inside, follow the hall around to the right to the rear of the building for their ballroom. Come on down and give it a shot...
If you are coming from the Loganville - Lawrenceville or Grayson area, get on Georgia 20 going south and follow this through Conyers, Magnet, and into McDonough. Once in McDonough where Ga-20 goes right, (toward the square) you keep going straight so watch the signs and stay on Ga-155 south. This will circle around and once you go under I-75, you will see the Quality Inn on your right and the directions above will apply.
For additional information or details on line dance classes in Henry County, e-mail
Tommy Bailey, mbailey571@yahoo.com
---------------------------------------------
There are the week normal planned dances at the various American Legions etc.
*******************************************************
LITHIA SPRINGS:
Starting Tuesday, Sept 3rd, Basic Beginners Line Dance Class for 6 weeks at First Baptist Lithia Springs, 6:00-7:00PM. Come on out!!
******************************************************************
FAYETTEVILLE GA:
September line dance classes begin September 9th and 10th in Fayetteville at the Kiwanis Center in Fayetteville and September 10th in Tyrone at the Tyrone Recreation Center.
Contact Cynthia Baldwin for more details at 404-317-4779.
See you on the dance floor. It is so much fun. Don't miss out. We dance to all genres of music.
**********************************************
SANDY SPRINGS:
ATLANTA CAJUN ZYDECO ASSOCIATION
Dance Party and Potluck Saturday, September 14 at the Garden Hills Rec Center
Summer is winding down and the Atlanta Cajun Zydeco Association (ACZA) is chilling out with a DJ Dance Party and Potluck. Enjoy a Saturday evening hanging out with old friends and make new ones! Dance to Cajun waltz, two-step, and jitterbug plus hot or bluesy Zydeco Tunes played by your favorite DJ.
Bring your dancing shoes, a friend or two, and a potluck dish or dessert, or beverage to share.
Dance Party & Potluck
Saturday, September 14, 7-10 pm
at the Garden Hills Rec Center,
337 Pinetree Dr. NE, Atlanta, GA 30305 (map)
Beginners' dance lesson 7-7:45 pm.
Music and Dance from 7:45-10 pm.
$10 /$8 ACZA members/$5 students
-------------------------------------------------------------------
Curley Taylor and Zydeco Trouble have been playing, touring and recording since 2003. Curley is one of the most prolific composers in Zydeco. ​His bluesy, soulful vocals and the band's hard driving Zydeco beat blend to create high energy dance music for all audiences. The music is true to its roots in Zydeco and Blues, but contemporary enough to appeal to a broad range of music lovers.
Sunday, October 20, 7:30 pm until …. at the Vista Room 2836 LaVista Road, Decatur, GA 30033
Free Zydeco Dance Lesson with admission: 6:30 pm
There is an area set aside for dancing.
Napoleon Grill's menu and full bar.
General admission: $15 advance / $19 at door. Reserved tables are available for 4, 6, or 8 people at $20 per person. Reserve your table in advance to be sure of having a seat! Note that the person reserving a table must put the entire cost of the table on his/her credit card.
ACZA members will receive a 25% discount to this dance: $16 per person at a table. Join ACZA now to take advantage of these reduced rates — click here.
Please note: reserved ticket prices do not include additional booking fees. To reserve tickets for Curley Taylor at the Vista Room, click here.
Listen to Cajun, Zydeco, and New Orleans music on the radio every week:
Sundays 1-3 pm - WRFG 89.3 FM - "Zydeco Jo's Louisiana Gumbeaux"
Atlanta Cajun Zydeco Association, Inc. (ACZA) is a 501(c)(3) volunteer-run non-profit Georgia corporation dedicated to preserving and promoting the music and culture of Southwest Louisiana. For more information, visit our website at www.aczadance.org and connect with us on Facebook: www.facebook.com/aczadance.
UPCOMING ACZA EVENTS
Saturday, September 14: Dance Party and Potluck at Garden Hills Rec Center
Sunday, October 20: Curley Taylor & Zydeco Trouble at the Vista Room
Friday, November 22: Chubby Carrier & the Bayou Swamp Band at the Vista Room
Sunday, December 8: The Revelers at the Dorothy Benson Center
OTHER LOCAL AND REGIONAL EVENTS
Friday, August 30-Sunday, September 1 – Rhythm and Roots Festival
Charlestown, RI; various Cajun & Zydeco bands; see https://rhythmandroots.com
Atlanta Cajun Zydeco Association, PO Box 14376, Atlanta, GA 30324. Tel: 877-338-2420.
Marla Puziss (for the Atlanta Cajun Zydeco Association)
404-313-0493
*************************************************************
ALPHARETTA GA:
NEW CLASSES!! Alpharetta
Weekly classes starting Thursday, September 19, 2019
10:00 – 11:00
Adaptive Line Dance
This line dance class is geared to people living with Parkinson's or other neuromuscular/neurodegenerative disorders as well as those with physical limitations or balance challenges All dances taught will be appropriate for this audience. We'll dance some of my original choreography as well as dances from a variety of choreographers. Get out and have some fun.
https://www.copperknob.co.uk/stepsheets/johnny-be-good-ID129881.aspx
https://www.copperknob.co.uk/stepsheets/worlds-delights-ID129882.aspx
11:15-12:15
Line Dance
This class is for the general population and is a mixed beginner's levels dance. We'll cover a variety of dance styles including Latin, country, R&B, Top 40 and Oldies.
WHERE
Alpharetta Adult Activity Center
13450 Cogburn Rd, Alpharetta (in North Park)
WHEN:
Thursdays (starting September 19, 2019)
10:00-11:00 Adaptive Line Dance
11:15-12:15 Beginners Line Dance
COST:
Free
INSTRUCTOR:
Wendy Haggerty
Whaggerty2016@gmail.com
SPECIAL NOTES:
YOU MUST BE OVER THE AGE OF 50 TO ATTEND THESE CLASSES.
All classes are free and you do not need to be a resident of Alpharetta to attend.
There is no need to sign up or pre-register ahead of time, just show up for some dancing fun.
Strengthen Your Body! Focus Your Mind! Energize Your Spirit!
Wendy Haggerty, C-IAYT
Certified Yoga Therapist and yoga instructor
Line Dance instructor and choreographer
On-line educator with Professional Organization for Wellness Certification
Parkinson's Foundation Advisory Council member
Creator Line Dance for Parkinson's, LD4PD
Owner Zest Yoga and Fitness
508-843-9887
www.ZestYogaAndFitness.com
**********************************************************
ATLANTA GA:
Country Western & Swing Dancing this Friday September 13, 2019 at the Yaarab Shrine.
One of the last dance venues in Atlanta playing a variety of country & western and swing music.
Admission is still only $10 ($8 for club members). Doors open at 7:00. Free 45 minute dance lesson with the price of admission beginning at 7:30. The lesson this month is Country Two Step with fundamentals for the beginner/novice plus a few moves to get you on the dance floor.
Open dancing after the lesson to Two Step, WCS, ECS, Cha-Cha, Waltz, Night Club, Hustle.
BYOB - Bring your favorite beverages and mixers - adult or otherwise. Ice and cups provided. Please, no drinks on the dance floor.
Ample parking with security cameras.
Smoke free environment.
The Yaarab Shrine at 400 Ponce De Leon Avenue in Atlanta is an easy five minutes off the North Avenue exit of the downtown connector. Traffic's not a problem - rush hour is over!
Large lighted and fenced parking lot with security guard on site.
Contact Bill Robinson at 678-640-4633 or Wray Sisk at 404-483-3778 for more information.
Friday Night Dance is hosted by the Country & Western Social Club, Inc.
Click the CWSC logo below to learn more about the Club and our weekly dance lesson schedule.
***************************************************
ATLANTA (BUCKHEAD AREA)
ATLANTA SWING DANCERS CLUB (ASDC)

Join us for the best West Coast Swing Dancing in town with Atlanta's original West Coast Swing Dancing club!!
West Coast Swing is one of the most exciting, popular and versatile couples dance styles in the world. It is danced by men and women of all ages and to a wide range of music genres.
The Atlanta Swing Dancers Club (ASDC) has weekly WCS lessons for all skill levels followed by dancing on Sunday nights.
Beginners are always welcome. If you're coming for the first time, your first Beginner class (Level 1) is free.
6pm The Specialty Class will be taught by Alan Annicella
6:45pm Beginner Class (Level 1) will be taught by Pat Korn
6:45pm Beyond Beginner (Level 2) will be taught by Alan Annicella
7;30pm until close is dancing for practice and fun
Our Sunday location is Academy Ballroom, 800 Miami Circle, Atlanta GA 30324
We dance on the second floor. Park in front and use the elevator.
Then on Wednesday, for additional dancing, join us at Brimstone Restaurant & Tavern in Alpharetta.
For additional details about our club and our activities, see us on Facebook and our website. Atlantaswingdancers.com
***********************************************************
GRIFFIN GA:
James Stone and Charlyn Harms will teach Bolero through the month of September. Thursdays from 7:30 PM until 9:00 PM at Family Building of Conner-Westbury Funeral Home, 1891 W. McIntosh Rd., Griffin, GA 30223 NO Partner Required.
Info: Bobby Bunn bobbytbunn@gmail.com
************************************************************
PEACHTREE CITY GA:
FREE DANCE LESSONS- CHA CHA
Starting Tuesday, September 10, through Tuesday, September 24, The Bridge Community Center in Peachtree City, located at 225 Willowbend Rd., phone # 770-487-9289, will be offering a FREE beginner class in the Cha Cha from 7:00 pm until 8:00 pm. From 8:00 pm until 8:30 pm, will be for students to practice what was shown in the lesson or need extra help with the steps. Dancing is great, not only for what will be accomplished, but also provides exercise as well as new friendships. The Cha Cha is a lively dance that is a lot of fun, having very nice movement and steps that a person will enjoy. All the classic moves will be taught at a beginner level and approaching an intermediate level. Even though the class is FREE, you will get the same quality as if you were paying top dollar anywhere else. Classes are taught by James Stone and Charlyn Harms.
***********************************************************************
VILLA RICA
We are starting a line dance social in VR on the second Wednesday of every month. 10:30am till 2:30pm. Just dancing (turbo teach only) of favorites, old and new. Dancers may submit their favorite dances for us to play at the social. Practice time for everyone
DANCING IN VILLA RICA, GA – Debra Cleckler – debb@cleckler.com
Exercise your body, mind and soul with us at the VPLEX (1605 Hwy 61 Villa Rica)
LINE DANCE Mondays - Classic & Contemporary – (electronic step sheets/videos provided)
Beginner Dancers - $20 per month.
Absolute Beginner: 6-6:30pm. Including Beginner Line Dancer orientation.
Improver 6:30-7pm.
Experienced Dancers - $25 per month 7-8:30pm, or… do both classes for $25 per month.
Fun music and dances! All taught by accredited dance teachers.
Classics for September include: Country as Can Be, Ah Si and The Tush Push.
Newer dances include: "Good As You" by Michael Barr and Michele Burton, "Just A Phase" by Madison Glover & Fred Whitehouse, "I Miss Me More" by Ed Vangelista, "Every Little Honky Tonk" by Steve Lustgraaf, "Senorita Bachata" (for the beginners) by Duma Kristina S & Mitha Primasari, "Mama Makes Three" by Ami Carter, "Soul Shake" by Fred Whitehouse and more!
Couples Tuesdays - Beginner 7-8pm, Experienced 8-9pm. $20 per person for four-week session.
West Coast Swing started September 3. Accredited. teacher Debra Cleckler.
No partner needed; we share ours! PRIVATE HOURS AVAILABLE – 404-398-2150.
NTA - The dancers' personal trainer and coach, helping good dancers become better dancers. Next NTA workshop in GA is October 5-6, 2019. www.ntadance.com We provide basic dance education (accreditation if needed for teaching). We also offer discounted music license.
****Coming to GA – Line Dance Social Dance (just dancing) on the second Wednesday of every month. 10:30am till 2:30 pm at the VPLEX -1605 Hwy 61. Submit your favorite dance requests to Debra at debb@cleckler.com by October 7 for first social on Wednesday, October 9.
.
*************************************************************
SNELLVILLE
Eastside Station, 2166 Highpoint Rd, Snellville, GA 30078
Nothing Submitted.
*********************************************
If you no longer want to receive the DANCE WEEKLY e-mail please do NOT mark as SPAM. Just send us a note to take you off… PLEASE provide the e-mail address you get it at and your name.
****************************************************
UPCOMING Events:
ATTENTION: Country Music Lovers - Voting has started in the Final Round of the 2019 Georgia Country Awards. To vote, go to the Awards page of Georgia-Country.com. Dancers, one category is dance venue of the year. All ballots will be up by this Wed evening. The Awards show will be on Friday night, November 8th at The Crazy Bull in Macon. Dancers, every year we always make sure there is plenty of room in front of the stage for dancing. Some of the best bands in Georgia will be performing. Tickets will go on sale on Georgia-Country.com by weeks end.
ATTENTION : Atlanta dancers. Cobb Country Nights is NOW "Atlanta Country Nights" as we have partnered with Ballroom Impact Atlanta in Sandy Springs to start a monthly dance, Saturday night, Oct 12th. They have a great dance floor. We'll have room for 200+. The night will be BYOB,, so bring your own drink but be responsible. Located at 8601 Dunwoody Place, Suite 730. The dance will prob run from 7:30 to 11:30 (final details to be worked out). Nov 16th will be the November dance. The dance will be more in the style of Electric Cowboy. DJ only playing hits from the 90s to now, with plenty of songs to two step, swing dance, waltz to line dance. Admission will be $10 in advance or $12 at the door. For more information, go to https://www.georgia-country.com/atlantacountrynights.php
ATTENTION: Dancers in Atlanta and West Georgia area, West Georgia Country Nights is proud to announce THE COUNTRY DANCE NIGHT of the YEAR with our New Year's Eve Party, Tuesday night, Dec 31st at Venue 1625 in Carrollton. There will be a gourmet buffet, champagne toast, balloon drop at midnight. Doors will open at 7pm, DJ dancing from 7 to 9 and then Brian Camp & The Georgia River Band on stage at 9 till after midnight. We'll be playing country hits from the 90's to Now,, plus some classics. Plenty of songs to line dance to two step to. Dress to your nines, we'll have a photo area to get your pics done. Make plans now. Tickets are $40 in advance for single, $45 at the door (if not sold out), tables for 8 or 10 for your friends are also available. Also, tables for 2 as well. Go to the link below for more info and advance tickets.
Also, Saturday night, November 2nd will be the Halloween Party. We had a great crowd last year. South of Nashville returns to the stage with another great night of 90's country to today's hits. Plenty of line dancing to two stepping songs. We'll have a costume contest with cash prize. Tickets are now on sale for single tickets to tables for 8 or 10. Go to http://www.georgia-country.com/westgeorgiacountrynights.php
This week shows from Georgia-country.com Artist., as of Sep 10th, 2019
Any show in RED has room to dance or a dance floor.
· Garrett Wheeler - Host of Buzzy's Grill's Open Mic - Kennesaw - Sept 10th
· Dallas McGee - Sutton's American Grille - Carrollton - Sept 11th (6pm)
· Casey Mitchell - Salt Life Food Shack - Fernandina Beach, FL - Sept 12th
· David Leon - Mia Ristorante Italiano - Cumming - Sept 13th
· Josh Courson - Wild Wings Cafe - Warner Robins - Sept 13th
· Hunter Grayson - Top Dawg Tavern - Bethlehem - Sept 13th
· Hunter Flanagan - Peerless Saloon - Anniston, AL - Sept 13th
· Hunter Flanagan - Midtown Music Festival - Piedmont Park, Atlanta - Sept 14th (12pm)
· Buck & Oz - Treo Restaurant - Blue Ridge - Sept 14th (12:30pm)
· Rocky Creek Band - Omega Pepper Festival - Omega - Sept 14th (2:30pm)
· Josh Courson - Cashman's Pub - Macon - Sept 14th
· Owl Creek Band - I Love NY Pizza - Jasper - Sept 14th
· Ron Bryant - Dry County Brewery - Kennesaw - Sept 14th
· Garrett Wheeler - King George Tavern - Dunwoody - Sept 14th
· Casey Mitchell - Applebees - Waycross - Sept 14th
· Brennan Burns - Las Palmas - Holly Springs - Sept 14th
· Blake Pettis - Irish Bred Pub - Douglasville- Sept 14th
· Buck & Oz - Chevelles - Haysville, NC - Sept 14th (8pm)
· Hunter Flanagan - Shuffle Inn - Canton - Sept 15th (2pm)
For the latest country music news, locally and nationally, the latest in major concerts coming to Georgia, pictures, videos and more, always go to www.Georgia-Country.com
Thanks for your support
***********************************************
ALPHARETTA GA:
Club 201 Friday, Saturday & Sunday Dancing - Open to the Public - Non-Smoking – Free Parking - 2800 Sq. Ft Hardwood Dance Floor

American Legion Post 201
201 Wills Rd
Alpharetta GA 30004
(770) 475-9023
www.Club201Dance.com (sign up for our weekly email of events). You also can hit LIKE Club 201 on FaceBook at www.facebook.com/Club201Alpharetta to keep up with events at the legion.
Friday Mornings Line Dance Lessons! Dance for Love benefits Veterans
10:00 AM Beginners
11:00 -11:30 Beyond Beginners
11:30 - 12:00 Intermediate
Jean Maggio Instructor $5.00 per Hour
-----------------------
Wednesday, September 11th - "Walk the Line Wednesday" with line dance instructor Nancy Anthony.
7:00 to 7:30 PM - Free Ultra beginner lesson.
7:30 to 8:30 PM - Line dance classes.
8:30 to 10:00 PM - Open line dancing.

Friday, September 13th - Buddy's Ballroom Bash with DJ Buddy Stotts playing great ballroom dance music from 8:30 PM to Midnight.
Beginning and Intermediate "American Tango" lessons with Mark and Elizabeth Williams from 7:30 to 8:30 PM.

Saturday, September 14th - Live music with the band "Southpaw" playing great dance music from 8:30 PM to Midnight.
Beginning and intermediate "Waltz" lesson with Mark and Elizabeth Williams from 7:30 to 8:30 PM.

Sunday, September 15th - West Coast Swing Sunday with DJ Virgil Breeden playing great "West Coast Swing" dance music from 7:30 to 10:00 PM.
Guest instructor for the "Competitive Edge" class is Barbara Vicor.
---------------------
Schedule for Dances:
Friday Dance Begins 8:30
Saturday Dance Begins 8:00
Sunday Dance begins at 7:30
Schedule for Dance Lessons:
7:30 pm Friday
7:00 pm Saturday
6:00 Sunday
You Do Not Need a Partner Mark & Elizabeth Williams, Dance Instructors
Admission Prices:
$15 for Band Nights
$12.00 for DJ Nights
$10 for Wednesday Nights (Same)
Social Dancing Only Sunday: ASDC Members $5 -
You Do Not Have to Be a Member to Dance!
Sign up for weekly email on upcoming events at our website
www.Club201Dance.com
Non-Smoking venue! Free Parking!
2,800 Sq. Ft. Hardwood Floor
Reasonable Drink Prices!
You May Reserve Tables for Parties!
Bring Your Own Snacks (No Beverages Please)
Directions:
From 400 Northbound – Exit 10 Old Milton Parkway – Turn Left – Approx. 2.2 Miles
From 400 Southbound – Exit 10 Old Milton Parkway – Turn Right – Approx. 2.2 Miles
Turn Right on Wills Road – First Drive Way on Left into the American Legion
For more information about Club 201, go to www.Club201Dance.com
********************************************************
DECATUR GA:
CWSC dance lessons are now being held in the Fellowship Hall at the Clairmont Presbyterian Church located at 1944 Clairmont Road, Decatur. Lessons are held from 7:30 to 9:30. Doors open at 7:15. Click Here for map to the church
CLASS SCHEDULE:
September 2019
13th Friday Night Dance at the Yaarab Shrine
16th West Coast Swing Basics & More/Novice
23rd West Coast Swing Beginner/Intermediate
30th West Coast Swing Intermediate
All Monday Night Lessons are held at the Clairmont Presbyterian Church. Click here for map Doors open around 7:15 and the lesson is scheduled to begin at 7:30. The lessons usually ends around 9:30 and several songs are played after the lesson so you can practice.

* BRING A FRIEND NIGHT
On the first night of each new lesson series, friends get in free to Monday night class if accompanied by a club member. Click here for more information
The CWSC is on FACEBOOK! Check it out: http://www.facebook.com/CountryWesternSocialClub If you have pictures from a CWSC social event for our FaceBook page, please send them to dinalee62@comcast.net or one of the other Board members.
Visit our website: www.cwsc.org
Your Dancing' Board,
Brenda
bshug50@yahoo.com
***********************************************************
DUNWOODY GA:
The Atlanta Swing Classic team and the Atlanta Swing Dancers Club are excitedly preparing for the 2019 Atlanta Swing Classic. With the event now less than two months away we have some fun and some information for you!
Last year we hosted a lively trivia session and we thought it would be fun to share that with you! Everyone that completes the quiz gets access to a bonus as well! Click here to take the quiz!
Event registration is open and our weekend pass is $130 and the weekend pass with breakfast buffet is $140. Newcomer pass as well as other discounts are still available!
Hotel reservations are available! While we have rooms available at the main hotel, our room block is filling up!
Limited spots are available in some of our programs, including the All-American J&J, Criss Cross J&J, the Accelerated Learning Program, and the intensives, so register early! (The intermediate followers for the Criss Cross J&J Divisions is sold out!)
Your input matters, and we will be seeking your input by posting occasional polls on our Facebook event page. Not there? Click here to RSVP to the Facebook event, provide your input, and help shape the 2019 Atlanta Swing Classic!
The 2019 Atlanta Swing Classic will be back at the fully renovated Crowne Plaza. The rooms have been updated and refreshed, the ballrooms completely modernized, and the restaurants remodeled.
Hotel room reservations are now available. Our room rate is $119 per night and parking is free! Please note that reservations do immediately require a one night deposit which is fully refundable until 6:00 pm, September 9, 2019.
**************************************************************
ACWORTH GA: 11 April 2020
Attached is the information for the 2020 Give Cancer the Boot line dance event which will be held April 11, 202. I know this seems really early, but the calendar is already filling up and this event sold out very quickly in 2019. Be sure to get this on your calendar!!!
Carol Walls
****************************************************
***********************************************
SUBJECT: STACY HAS UPDATED THE "DANCE WHERE" LINK ON THE SITE:
PLEASE checks the classes and clubs that are listed in the area where you live and let Stacy know by filling out the little form whether there should be changes, deletions, or corrections. Please really use this link when they travel or move and she can only keep it correct and current with everyone's help. Just click on the link, go to your city/state/country and see if the listings are correct or if you are in a class that isn't listed. Perhaps your instructor doesn't get the newsletter (and you need to tell them to get it by sending me an email to tkandr@aol.comand I'll add them. LOL) or times and days have changed. It will only take a second to check and Stacy and I would REALLY appreciate it. Be sure and do it through the form, though, because that goes directly to her. Thanks a bunch.
Where To Dance pages has been updated!
http://worldlinedancenewsletter.com/
Click on DANCE WHERE and choose your Country. ALL forms are on the right hand side.

Stacy J Garcia
stacyjgwldn@gmail.com
World Line Dance Newsletter
www.worldlinedancenewsletter.com
https://www.facebook.com/stacy.j.garcia
UPCOMING EVENTS:
HERE IS A LIST OF UPCOMING EVENTS. STACY UPDATES IT EVERY SUNDAY. There is a little form to use on the RH side of the page so please be sure your info is included for weekend events, day seminars, and socials ANYWHERE IN THE WORLD. People use this list to plan their year ahead and you can even add your events for 2087.
2018 EVENTS
LD = Line Dance, PP = Pattern Partner, SW = Swing, CW = Country Western HOPE TO SEE YOU SOMEWHERE IN THE DANCEFLOOR!
Date Event Name Location Contact Dance Types
09/13-09/15 4th Annual Pittsburgh Line Dance Convention Pittsburgh, PA Email LD, Soul
09/13-09/15 Buffalo Bump 'N Boogie Buffalo, NY Email 716-673-1438 LD
09/13-09/15 Harvest Moon Line Dance Festival West Kelowna, BC Canada Email 403-993-5556 LD
09/13-09/15 Line Dance With Special Guess Guillaume Richard New Brunswick, Atholville, Canada Email 506-759-8067 LD
09/14 Let's Dance Day Orlando, FL Email LD
09/16-09/21 Vegas Dance Explosion Las Vegas, NV Email 951-756-4451 LD, CW
09/20 Simply Jo #1 - Friendly Fun Workshop Sturbridge, MA Email 508-461-7247 LD
09/21 Nickel City Line Dance Classic Sudbury, Ontario, Canada Email 705-525-0448 LD
09/21 Simply Jo #2 -Vintage Jo - Imp / Int LD Workshop Sturbridge, MA Email 508-461-7247 LD
09/28 Dance For A Cure Canfield, OH Email 330-519-3871 LD
09/28 Line Dance Workshop - Larry Bass & Lindy Bowers Orange Park, FL Email LD
09/28 Workshop With Gerard Murphy & Cathy Montgomery London, Ontario, Canada Email 519-204-6005 LD
09/28 Simon Ward Dance Workshop Orlando, FL Email 321-239-2220 LD
10/05 Fun On The Dance Floor Thornhill, Ontario Canada Email 519-823-1368 LD
10/05-10/06 NTA Dance Technique Workshop Villa Rica, GA Email 770-456-6244 None
10/05 Oktober West Sacramento, CA Email 916-802-7124 LD
10/05 Wild Roses Vegas Nights Fort Pierce, FL Email 561-202-4745 LD
10/10-10/13 Windy City Linedancemania Chicago, IL N/A LD
10/12 Let's Dance Day Orlando, FL Email LD
10/18-10/20 Southern National Dance Panama City Beach, FL Email 850-445-9362 UCWDC (LD,SW, CW)
10/18-10/20 Southside Virginia Dance-A-Thon With Dancin' Dean Danville, VA Email 434-799-5216 LD
10/19 Dancing My Way To Wellness Line Dance-Thon Hamden, CT Email 203-464-2674 Soul
10/19 Munegu Dance Event - Scott Blevins & Gary O'Reilly Monaco, Principaute De Monaco, Email (377) 0678639680 LD
10/20-10/31 Line Dance Holiday Antalya, Turkey Email LD
10/24-10/27 Motor City Dance Classic Sterling Heights, MI Email 586-419-9178 LD
10/26 Southside Virginia All-Beginner Line Dance Workshop Danville, VA Email 434-799-5216 LD
11/01-11/03 Halloween Party With Maddison Glover Sundsvall, Sweden Email (70) 5980156 LD
11/02 Let's Dance Day Orlando, FL Email LD
11/07-11/10 5th Annual - Dance In The Sand Myrtle Beach Myrtle Beach, NC 919-247-0680 LD
11/07-11/10 New York State Of Line Ellenville, NY Email 732-267-2891 LD
11/08-11/09 Hawaii Line Dance Festival Lihue, HI Email 808-635-3333 LD
11/15-11/17 Line Dance Weekend With Jo Thompson Szymanski Bergen, Norway Email LD
11/15-11/17 Piepstem Resort Line Dance Weekend Pipestem, WV Email 502-643-2786 LD
12/05-12/08 Florida Line Dance Classic Orlando, FL Email 954-444-6980 USLDCC (LD)
12/06-12/08 Madness In Taiwan Taipei, Taiwan Email 714-334-0888 LD
12/14 Let's Dance Day Orlando, FL Email LD
LD = Line Dance, PP = Pattern Partner, SW = Swing, CW = Country Western (TBD) = To Be Determined
EVENT CALENDAR UPDATED
Forms for Event Calendar: http://www.worldlinedancenewsletter.com/form-event-calendar.html
Stacy works on the event calendar on Sundays and sends the Event Calendar link to Carol to post in newsletter on Mondays.
*****************************************
For bulk FOOT TUBE orders go to www.dancersfoottubes.com Many of the instructors sell individual pairs
**************************************************************************
**************************************************************************
Computer info….:
Happy Scam Day
Every day I get a call or email (or text, Facebook message, tweet, DM on Next-door... I thought this technology thing was supposed to make things easier!) where the person lets common sense go out the window and needs my advice to not be technically savvy but help them understand there's a scam happening and I need to talk them off a ledge, quickly.
Some recent examples:
Microsoft, Apple, Dell, etc WILL NOT CALL YOU. They do not call. Never, ever. Mom, you have a better chance getting called by one of my teenage boys than by Microsoft telling you that Windows is expired. Hang up on them and move on.
If someone who you haven't talked with in years sends you an email and requests a Game Stop gift card scanned and emailed to them with the PIN number exposed for their son, why don't you pick up the phone and call them to see if it's really from them. (Hint, it's not.)
If you get a pop-up message in your web browser that says you have a virus (Zeus, Zlob, etc), and to call a number, it's not a virus, just a really good advertisement. Hold down your power button for 10 seconds. (NOT 5.... 5 is not 10. See Monty Python and the Holy Grail, fast forward to the Holy Hand Grenade of Antioch scene for clarification. Click Here For Clarification:)
And no, your grandson's not in a Chilean jail.
What I will tell my clients is to learn how to take a picture and text it to me. I can quickly respond and hopefully provide a quick intervention (I'm an interventional technologist - guess I need some new business cards) to hopefully cut the bad guy off at the knees before they can steal your stuff.
Windows 10 Migrations
January 14th is getting closer. If you've got a Windows 7 computer and it's working well, you might want to try to upgrade your existing computer to Windows 10 and forego buying a new computer. If you do the upgrade, everything on your computer stays as is; printers, files, emails, browsers (except for Internet Explorer, which is in Windows 10 but hidden away in the basement like a box of pictures from college). If you want a drop off and upgrade service, give Peachtree Computers in Roswell a call at 770-649-8800. If you want me to come to your home and upgrade you while we discuss the finer things in life like Village Burgers and Village Idiots, I can arrange for that to happen. Or you can buy a new computer. Don't ask me what you'd buy because that would be like me asking you what car I need to buy, and I don't need your help to make a bad decision. You can certainly have me be your computer purchasing escort at Costco (regular rates + 1 hot dog combo and maybe those Haagen-Dazs like ice cream bars coated with chocolate and almonds), Best Buy, Office Depot or Microcenter. Fry's will/should be out of business shortly so I would skip them. (Too bad, since my surgery I need to get my steps in and a big empty store is perfect for that.)
Copyright © 2019 Dunwoody Personal Computers, LLC, All rights reserved.
You are receiving this email because you are a customer or friend of Dunwoody Personal Computers, LLC.
Our mailing address is:
Dunwoody Personal Computers, LLC
2090 Dunwoody Club Drive
Suite 106
Atlanta, GA 30350
********************************************************
In accordance with Federal Regulations and Law, if you find that this newsletter is no longer of interest to you and you wish to have your name removed from our listing, we will gladly do as you desire. Simply reply to this email with the following subject line; "REMOVE from Dance list". If you will list both your name (as given for this e-mail) and the actual e-mail address….
If you'd prefer that we use a different email address, respond with "Dance list E-MAIL CHANGE" in the subject and your preferred email address in the body of your response.
If you have suggestions or comments, respond with "Dance SUGGESTIONS & COMMENTS" in the subject and we'll direct your comments to the appropriate people.
If you are not included on our distribution and wish to be, merely send us an email with "SUBSCRIBE to Dance list" in the subject.
****************************************************
Have a great Dance Week.
Dave Williams
770-399-9316
atlantadanceweekly@gmail.com